Constructions with Circles, Spirals & Light
Room installation with rotating draped dresses, sound and light.
Sole-Exhibition, One-Off
Denmark, 2010
Kunstpakhuset, Ikast
April 24, 2010 — May 24, 2010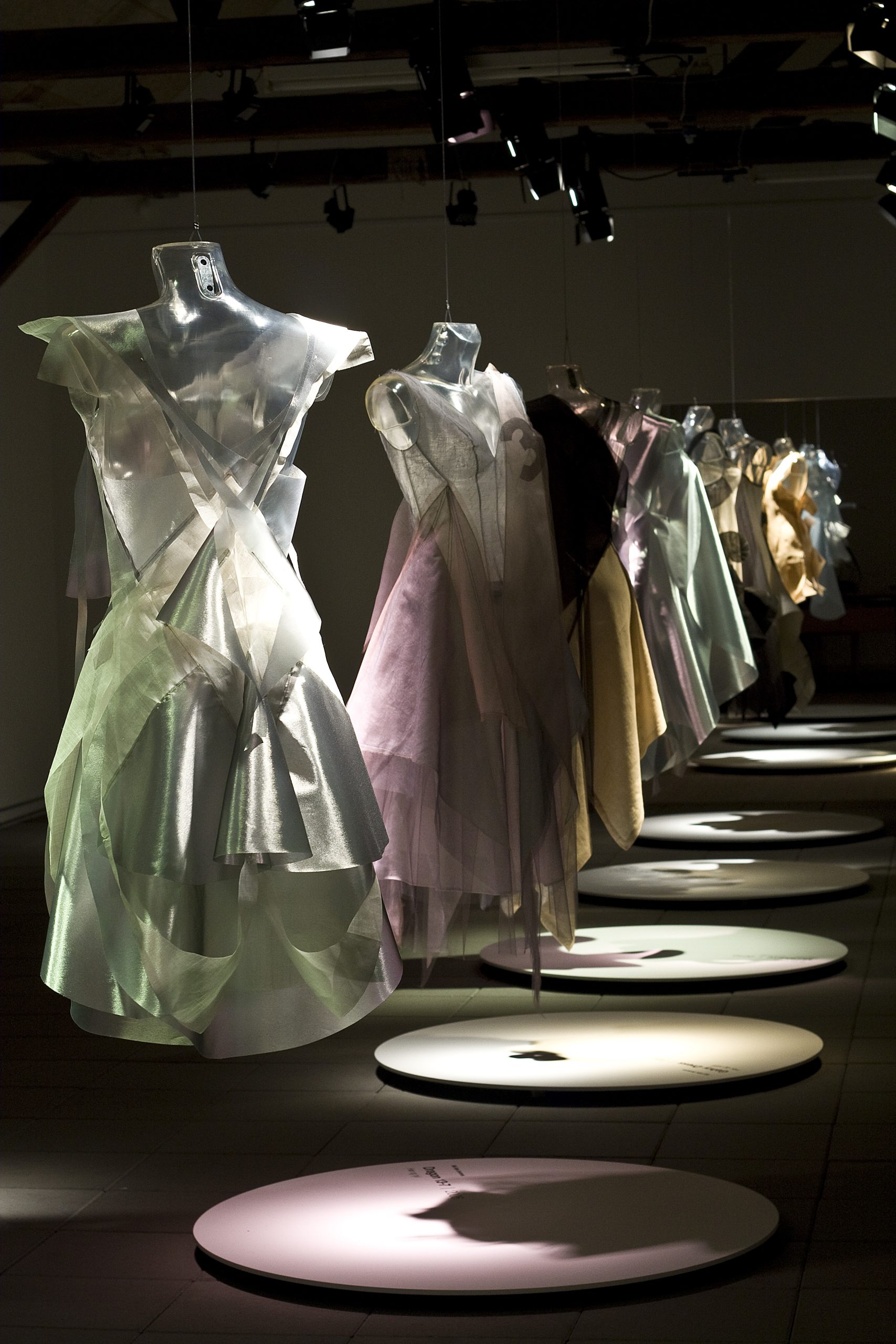 Japanese inspiration
The exhibition presents five quite new works and seven previously shown works by Anne Damgaard. – "The new series of five works I have made for Kunstpakhuset are mostly inspired by a journey to Japan. By visual and sensuous impressions from nature, architecture, and an overwhelming simplicity and precision in esthetic expressions" Anne Damgaard says.
"The materials are bought in Japan and range from fine hand woven hemp qualities to very modern synthetic nuno textiles. The firm is one of the most interesting and forward looking on the textile front at the moment. One of the textiles is made of morhotex fibers laminated in exact thickness by means of nano technology to attain the same luminous color effect you can find on the wings of a butterfly" she explains about the new materials. In Anne Damgaard's new constructions the materials are cut in rags in strictly geometrical shapes and subsequently draped as dresses on a dress form. Together with the new dresses she exhibits dresses from previous dress series that have been shown at the exhibitions 'Black Angles 13-7' (Øksnehallen in Copenhagen) in 2006 and 'Nordic Award in Textiles' (Textilmuseet in Borås, Sweden) in 2008.
Texture and geometry
Her expressive dresses are light and elegant constructions which stylishly and delicately express sensations, movement, and feelings. She shapes her constructions in semitransparent textiles such as tulle, nylon, silk, and cotton gauze. Strikingly she brings out and uses the characteristics and qualities of the textiles. The starting point for the experimental dress constructions is geometric shapes, often squares, rectangles, circles, and ovals. She tests and wrings the shapes of the dresses in different ways. A sensual and refined interplay between body and textile and a play with light, color, and movement characterize her creations.
Borders are erased
Anne Damgaard's dress design is a universe filled with sensations and transformations. Her constructions erase unnoticeably and delicately the borders between body and textile, between light and darkness, between dream and reality. The lightning of the exhibition underlines the subtle erasing of borders. A special lightning is arranged in the gallery thus shadows being cast from the turning dresses on walls and platforms. "Anne Damgaard's dresses are both physical and mental constructions. They open up to a larger room – internally as well as externally" author and professor Erik Steffensen writes about her designs in the new, illustrated catalogue which accompanies the exhibition.
– Bente Jensen, 2010
Materials: Nuno textiles
Morpho tex
polyester
Handwoven hemp-gauze
ramie
Dimensions: 12 draped dresses, 5 of them created for the exhibition.

Graphics & Exhibition Design:Rasmus Koch Studio

Photos: Jan Berg
Anne Damgaard

Thanks:
Egefonden
Midtjydsk Skole - og Kulturfond
Johs. Jensen og Helle Mau Jensens Fond
L.F. Foghts Fond
Pro Tex Invest
Danspin A/S
Per Bak Christensen
Jan Berg
Erik Steffensen
Rasmus Koch
Sunghye Park
Søren Obel
Gyda og Lind Pedersen
Messer Kvartetten
Søren Bisgaard

Studio:
Pernille Egeskov Bigum
Mia Stensgaard
Helle Damgård
Awards: 2010 — Awarded by Danish Art Council